Zodiac 601XL Project for Sale
Rolly Hughes writes:
With your list of contacts I was hoping you might could help me sell my Zodiac 601XL project.
RV-7(A) Quick-Build Wings For Sale
Deal L. Eiland has RV-7(A) wings he removed from a plane he purchased for the engine and instruments. The wings are quick build and are completely finished including control surfaces (not painted). The wings have capacitive fuel sending units and the Aircraft Extras low fuel warning system. He has removed the fuel tank access plates to check for SB on the fuel pickup tubes so those covers will need to be reinstalled. If someone is interested please email him at This email address is being protected from spambots. You need JavaScript enabled to view it.. The wings are located just north of Dallas/Ft Worth.
Airpark Home FOR SALE San Geronimo Airpark 8T8, San Antonio, Texas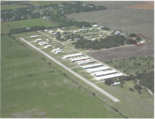 1.5 ac lot w/ 2250 sf home w/ 3 bdrs / 2.5 bths, detached oversized 2 car garage, circular drive, 40' x 40' metal hangar w/ awning cover 12' w x full length on north side, 8' x 12' storage building. Home built 1991, recent extensive remodeling. Aerial view shows location of property. Shown by appointment only.
Please call Dave-210-410-9235
Stiletto Airpark T-Hangars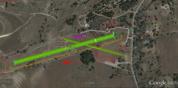 Hangars at newly constructed Stiletto Airpark will be available at $300/month. Read the article below, and contact J. Reid Howell for more details.