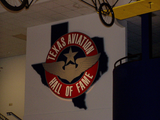 On Friday night, 9 November 2002, Tony Bingelis was inducted into the Texas Aviation Hall of Fame located in the Lone Star Flight Museum, Scholes Field, Galveston, Texas. His wife, Morene, was there to accept the award, along with her daughter, Sandra.
It was a Black Tie affair held in the vast hangar of the Lone Star Flight Museum. Some aircraft from the museum collection, all but one flyable, were either moved aside or outside to make room for the approximately 60 tables of eight and the stage under the wing of a PBY Catalina.
After a dinner of prime rib and seafood, the five inductions to the hall of fame began. The inductees were Tony Bingelis, Dr "Red" Duke (founder of Hermann Life Flight, a helicopter based emergency medical life support system), Dr George Lane (B-26 pilot who developed protocols for using the B-26 in night attack), Lloyd Nolen (founder of the Confederate Air Force), and Jeana Yeager (circumnavigated the globe non-stop, unrefueled in the Voyager).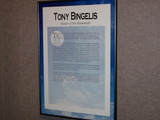 Stan Shannon read the citation for the award. Following the citation, Bill Gunn escorted Morene to the stage, where she was presented the gold medal, a trophy with an inscription to Tony, and flowers. Following the inductions, the attendees were invited to proceed into the hall of fame to view the enclosures containing the tribute to the inductees.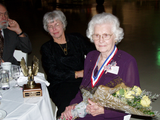 Tony's enclosure included a large portrait picture, his four books, his EAA Hall of Fame trophy, several pictures of Tony with his various aircraft he built, and several trophies his aircraft won. Beside the enclosure was the citation.
Chapter 187 can be proud that a memory of a very significant one of our own now resides in the Texas Aviation Hall of Fame.